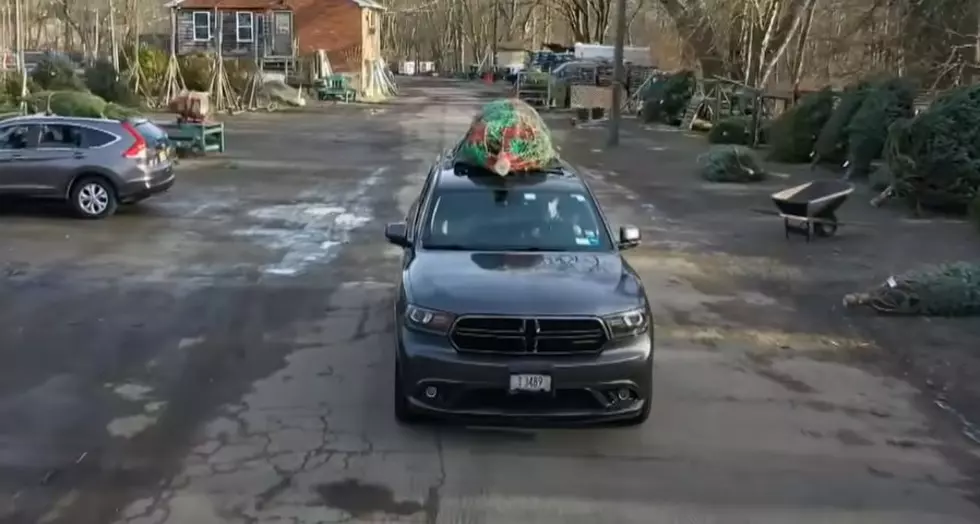 Will I Get In Trouble For Strapping A Christmas Tree On The Top Of My Car In Texas?
Inside Edition Via YouTube
Wait, we have all seen it in the movies, right? How many times have you seen a movie where they go grab a Christmas Tree and strap that puppy to the TOP of the car? I mean if Clark Griswald can do it, why can't we? I personally have never done it, but I sure have always wanted to lol. It just looks so right for the holidays, right?  So, if you are needing to strap your Christmas Tree to your car the question is, is it legal to do so in Texas? 
• IT IS NOT ILLEGAL TO STRAP A CHRISTMAS TREE TO YOUR CAR!
Thankfully, our inner Clark Griswald can sigh a breath of relief. It is NOT illegal to strap a Christmas Tree to the top of your car. But, you must be responsible when securing your tree to your car and follow guidelines as far as endangering other vehicles. You can be fined or given a warning for securing anything to your car that is deemed unsafe. Remember, you still need to follow state laws on visibility, obstructing, and protruding objects from your vehicle. Please ask your Tree vendor for any help or information about securing your tree to your vehicle.
• AAA TEXAS HAS SOME TIPS ON SECURING YOUR TREE TO YOUR CAR
If it doesn't fit in your car then you might have to go for the ROOF of your car! If so, AAA TEXAS has some tips.
Securing – tie down the tree at its bottom, center, and top using strong rope or nylon ratchet straps. Avoid using the nylon offered by many tree lots. Use fixed vehicle tie-down points and loop the rope or strap around the tree trunk above a branch to prevent any side-to-side or front-to-rear movement. face the trunk of the tree forward.
Testing –  once secure, tug on the tree from different angles to make sure it is secure in place and will not come loose.
Nice and Easy – drive slowly and take back roads if possible. Higher speeds can create significant airflow that can damage your tree or challenge even the best tie-down methods.
• BE SAFE AND USE YOUR ROOF RACK IF POSSIBLE
• ASK A FRIEND TO HELP WITH THEIR TEXAS TRUCK!
Let's be real, this is TEXAS! Truck Country! It might help to just ask a friend who has a truck if they will assist you in getting your Christmas Tree!
• CHECK OUT THESE VIDEOS ON STRAPPING A TREE TO YOUR CAR!
Top 25 Toys From The 80's
Gallery Credit: Rebecca Cruz