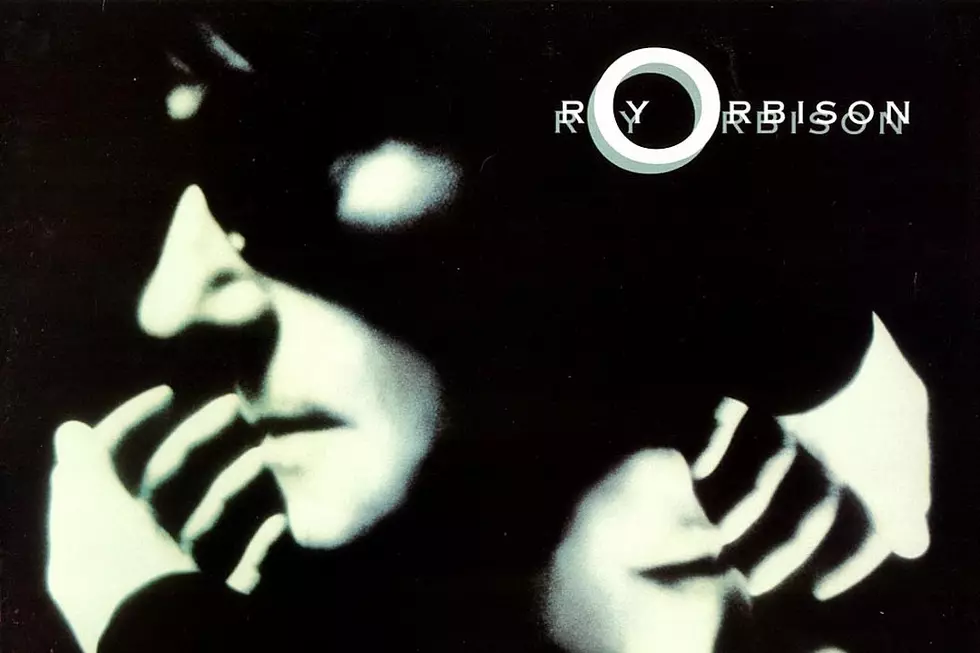 How Roy Orbison Mounted a Final Comeback With 'Mystery Girl'
Virgin
Roy Orbison spent much of the '70s and '80s in commercial exile. With the exception of his 1980 duet with Emmylou Harris, "That Lovin' You Feelin' Again," he hadn't had a Top 40 hit on the pop or country charts since the '60s. But to Orbison's credit, he never chased trends.
Orbison's steadfast dedication to his signature sound actually started paying dividends again in the late '70s, when a widening circle of artists introduced his music to a new generation of listeners via hit cover versions, including Linda Ronstadt (who enjoyed a 1977 smash with her recording of "Blue Bayou") and Van Halen (who cranked up the volume for their take on "Oh, Pretty Woman").
Although he hadn't recorded an album on his own since 1979's Laminar Flow, Orbison spent the '80s slowly accruing a level of mainstream cool he hadn't enjoyed in decades. "I've never really lost confidence. I can't remember not going straight ahead with what I was doing," he recalled in a 1987 interview. "I didn't record a lot. I was recording from time to time, but I didn't have that place where I felt at home. Without a record contract, I didn't have a schedule to keep with my writing, so I wrote some, but not under pressure."
Initially, people seemed less interested in what Orbison was writing than what he'd already written. In 1987, he signed to Virgin Records for In Dreams, a collection of re-recorded hits, and was inducted into the Rock & Roll Hall of Fame by his disciple Bruce Springsteen, who paid him the compliment of a career when he told the audience: "I'll always remember what he means to me and what he meant to me when I was young and afraid to love. When I went into the studio to record Born to Run, I wanted to make a record with words like Bob Dylan, that sounded like Phil Spector's productions, but most of all I wanted to sing like Roy Orbison."
Of course, Springsteen admitted, "Everybody knows no one sings like Roy Orbison."
Slowly, Orbison set about recording new material, assembling a roster of producers that included T Bone Burnett as well as Jeff Lynne, who'd recently found himself at loose ends following the dissolution of the Electric Light Orchestra. As it turned out, Orbison's association with Lynne ended up putting a temporary halt to the sessions for what became his Mystery Girl album – first because of scheduling conflicts, and then because of the series of happy accidents that led to Orbison and Lynne joining up with George Harrison, Tom Petty, and Bob Dylan to form the Traveling Wilburys.
"Jeff had come to the house in Tennessee when I lived there, with thoughts of writing and producing," Orbison recalled during the 1987 interview. "We worked a few days and then didn't get together again, and when I needed to get with Jeff he was with George Harrison ... and [working on] a couple of sides for Tom Petty."
Watch the Traveling Wilburys Perform 'Handle with Care'
The next thing he knew, Orbison was in one of the more surprising supergroups of the decade. "George came to town from England and he and Jeff and I went to dinner," Orbison continued. "George said, 'I need a third side for a European single, so why don't we get together and write one?' I said, 'That's fine with me.' He said, 'Call Bob and see if we can use his studio,' so we called Bob Dylan and he answered on the first ring – which was unusual – and he said 'Sure, come on over.' So George went to get his guitar at Tom Petty's house, and Tom said, 'Well I've got nothing better to do, so I'll join you.' We were in the garden that afternoon, had a little barbecue and wrote ["Handle with Care"] – recorded it in the garage that night."
Released in October 1988 as the first single from the Traveling Wilburys' self-titled debut, "Handle with Care" reawakened the public to something Roy Orbison's peers had never forgotten: As Springsteen said, no one else sounded like him, and that sound continued to lure famous collaborators into the creation of Mystery Girl.
"Rock 'n' roll has a history now. It has roots, it has a background, and I think a lot of people are interested in that," Orbison suggested during the 1987 interview. "Not so much plastic, but more feeling, and more real music, and more truth. Things are so intertwined in the business – like U2, for instance. When I went to their concert for the first time, I really enjoyed it and met Bono afterwards. He said, 'I'm writing a song for you – "She's a Mystery to Me." We got together at the Grammy Awards a couple of times to work on the song, and he comes in and produces it. Not out of the blue, but it wasn't unexpected necessarily. I'm sort of just doing what I've always done, writing a song and singing a song."
If the Wilburys-mandated delay made Orbison antsy, he didn't show it. It actually made perfect sense, given the patient approach he'd brought to bear on his recording career since the beginning of the decade. "I feel very strongly about what I do release," he told the NME in 1980. "If I put a record out I like to say I do want it to be No. 1. Everywhere. Otherwise I could just keep them at home, you know."
Even as cold as his career was in 1980, Orbison insisted that he foresaw "Phenomenal success. ... Much more so than I've ever had before" for the rest of the decade, and although it took quite a few years to pan out, those dreams started coming true once the Traveling Wilburys took off – but he took his renewed rise in stride. As he put it at the time: "All artists go through a period when they turn on success or success turns on them. Most of them can't ride that out. I guess I was fortunate in that I had been playing and singing for 13 years when success came. It touched me deeply, but it didn't make me crazy."
Listen to Roy Orbison Perform 'California Blue'
Unfortunately, just as audiences started coming around to Roy Orbison's haunting vocals again, his health was failing. He'd undergone triple bypass surgery in 1979, an experience he described with typical understatement during the NME interview: "They ran some tests on Monday and on Tuesday the doctor said I had to have open heart surgery because of the blockage. I said OK, leave me a nice scar at the top, because I wear open-neck things and I don't like ties, and he looked at me like I was crazy. I guess I was, probably."
Crazy or not, Orbison felt better than ever after the surgery. "There was no heart damage whatsoever, and they increased the blood flow by 60 percent to my brain, and everywhere else," he insisted. "And I could think better, see better, smell better, everything. It was unbelievable. Back like I was 19 again."
Even with his medical history, it came as a shock when Orbison passed away suddenly on Dec. 6, 1988 after succumbing to a massive heart attack. "Even though the first heart attack happened 10 years before, and an open-heart surgeon says it gives you roughly 10 years by doing the surgery, you only remember these things after someone passes away," Orbison's son Alex recalled years later. "We were all shocked and caught off guard by the fatal heart attack, because Roy had been looking, feeling, and sounding like he was 22, not 52."
Orbison's death made worldwide news, and by the time Mystery Girl arrived in stores on Feb. 7, 1989 – with the record's first single, "You Got It," already surging up the charts – it was one of the more heavily anticipated albums of the year. It went on to reach No. 5 on the Billboard charts and peak at No. 2 in the U.K., while "You Got It" broke the Top 10 of the U.S. pop and country charts and topped the Adult Contemporary chart.
"His strength and his calmness and his unworldly faith will affect me forever," k.d. lang, a friend and duet partner, later said. "He was so beyond the surface and the frivolous part of human nature. I mean, people always thought he was so lonely and sad and everything, but au contraire, he was very strong and very peaceful. He was a legend, and yet, he was really humble."
It was a tragic case of awful timing, but even if Roy Orbison left us too soon, he always seemed to have a particularly graceful understanding of our limited time on Earth. "We had our plans and God has his and they're working together now," he said in his final interview, tying in with sentiments he'd expressed during the 1987 talk. "I don't think I've changed any, confidence-wise or direction-wise. It's all me having a dream and a song in my heart, and getting that out. I've never had a master plan, anyway."
Top 100 Classic Rock Artists