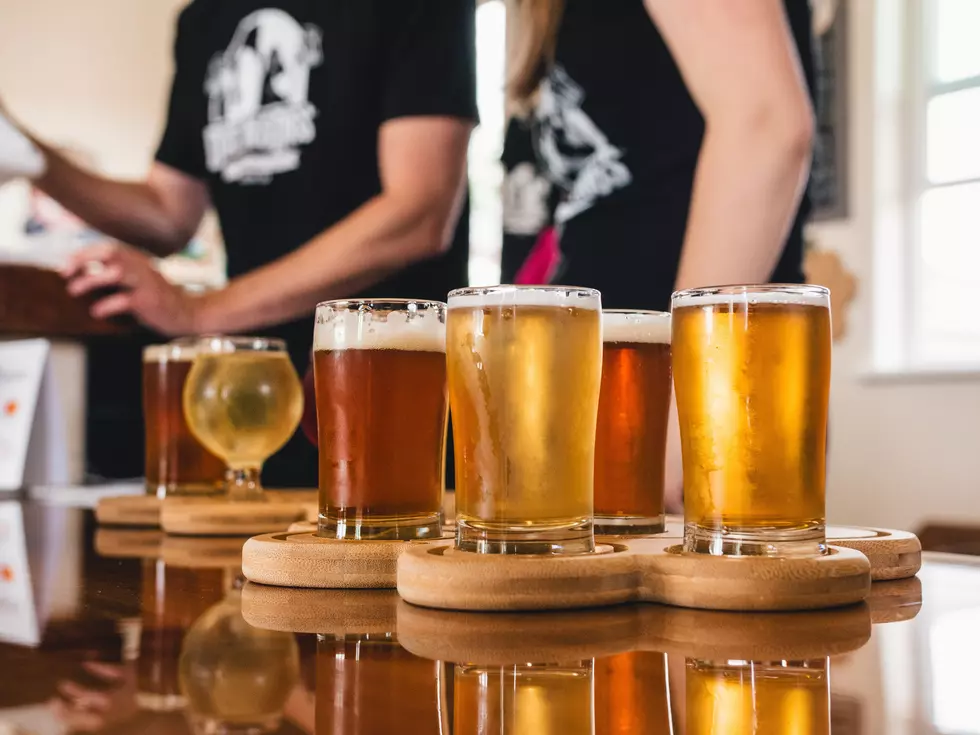 September 28th is "Drink A Beer Day"…Here are the Best Local Brews
Photo by Meritt Thomas on Unsplash
Sometimes the pressures of life build up.  You can feel it happening.  When you need a little relief, there's nothing like a cold brew.  Here in San Angelo, we have a number of really great breweries with a variety of brews  Let's review some of the top breweries in San Angelo.
Plateau Brewing Company 214 S Chatbourne, San Angelo
There are no two things on earth that go better together than Texas Barbeque and cold craft pints.  You will find both at Plateau Brewing company.  Southern Smoke is their grilling partner.
Plateau Brewing is now open Thursday-Sunday.  They have a variety of amazing brews including:
Desert Draft Wheat- An American Wheat Beer
Feral Fruit Volume 2- Banana Cream Pale Ale-Milkshake
Red Bluff Ale- Irish Red
Armadillo by Midnight- Black IPA
Coyote Blonde a Blonde Ale
Hazy Daze-New England/Hazy
High Cotton IPA-An American IPA
This is just a cross section there are more.  Plus, if you're looking for the perfect brunch, they have some great libations, including Beermosos, Micheladas and mimosas, the Christoval Vineyards delicious Sparking Almond.  You can't do craft, until you do Plateau Brewing Company.
SoCo Taphouse & Brew Co. 113 E. Concho Ste 210,  San Angelo
On their Facebook, SoCo proclaims that they are the "Cheers" of craft beers. They also claim "we pride ourselves on providing San Angelo with a welcoming environment and the best variety of craft beers."
With temperatures well over 100, the cold brews here, are definitely inviting. Many reviewers remark that SoCo is a great place, even if you're not a craft beer expert.  They seem to be skilled at listening to what you like in a beer and guiding you to the perfect brew.
Some of their tap brews include:
Naked Mermaid Honey Hefeweizen.  What is Hefeweizen? This is a German-style brew that is amber or straw in color and brewed with at least 50% malted wheat. The aroma and flavor of a weissbier comes largely from the yeast and is decided fruity, but the intensity varies by brewer with a balance of fruity banana and phenolic clove.
Selections from the Horney Toad Brewery including: Angelo Amber, Kickapoo IPA, and  Mesquite Bean Brown
Big Bend Brewery's Hefeweizen
Real Ale Brewing Company including Devils Backbone, Blanco Pale Ale, and Black Quad
Other Breweries represented include Pappy Slokum, Deep Ellum Brewing, Eola Bright Brewing, Austin Eastciders, Grapevine Craft Brewery, Community Beer Company. Bishop Cider Company and many others.  Chances are, if you've heard of it, so have they.
Zero One Alehouse 20 W Beauregard Ave, San Angelo
This is a local favorite. What's not to like?  The downtown location, the outdoor patio, the incredible food, the service and then there are the brews. Constantly, updating and adding, Zero One is a destination for the brew lover, even if you're not sure whether or not you really are a "brew lover".
The great thing about Zero One is they offer brewery tours.  You can actually see their brews being created and the precise science behind crafting perfection.
These guys are the beer equivalent of what being gourmet is to food.  They're even making a Lime Lager.  Some of Zero One's brews include:
Rhinestone Blonde Ale-a refreshing beer with a honey like malt sweetness balanced by a hint of hop bitterness. This is a great starting point to your tour of "craft".  This brew has enough flavor to satisfy the most savvy craft brew lover.
Neuroplasticity Belgian Tripel-Fun to say, even more fun to savor. This brew has a marshmallow sweetness, mild spice and a hint of nectarine with watermelon rind. It has an easy flavor, but it's deceptively strong.
Peach Bliss Fruited Sour Ale-If you're brave try this. The sour flavor will be a great introduction to what it means to be a sour beer. Lightly tart and refreshing with a flavor born from being fermented with pureed peaches. You should also try Tangerine Bliss
The "Fainting Goat" Dopplebock.-This beer has hints of dark molasses, walnut, and light plum with a touch of...wait for it.....chocolate. You have to try it.
The Mick Jimmy-Pickle beers are a sensation. This is one of the best.  It pairs well with any appetizer or burger.
Others include: The Luna Belgian White, The FIne Bit of Stuff Irish Red, Mother Earth IPA, Into the Unkown Biere de Garde, a winter brew, Look of the West Cold IPA, They're after me Irish Stout, their only Nitro stout on tap, The Flavors of Texas and Solamente" El Dorado Pale Ale.
Zero One is open 7 days a week, so you can serve your craft brew cravings whenever they hit.
Craft brews are becoming immensely popular nationwide.  Did we miss any here in the San Angelo area?  If so, drop us a line in the comments. Remember drink responsibly, don't drink and drive and Happy Drinking!
LOOK: See how much gasoline cost the year you started driving
To find out more about how has the price of gas changed throughout the years, Stacker ran the numbers on the cost of a gallon of gasoline for each of the last 84 years. Using
data from the Bureau of Labor Statistics
(released in April 2020), we analyzed the average price for a gallon of unleaded regular gasoline from 1976 to 2020 along with the Consumer Price Index (CPI) for unleaded regular gasoline from 1937 to 1976, including the absolute and inflation-adjusted prices for each year.
Read on to explore the cost of gas over time and rediscover just how much a gallon was when you first started driving.