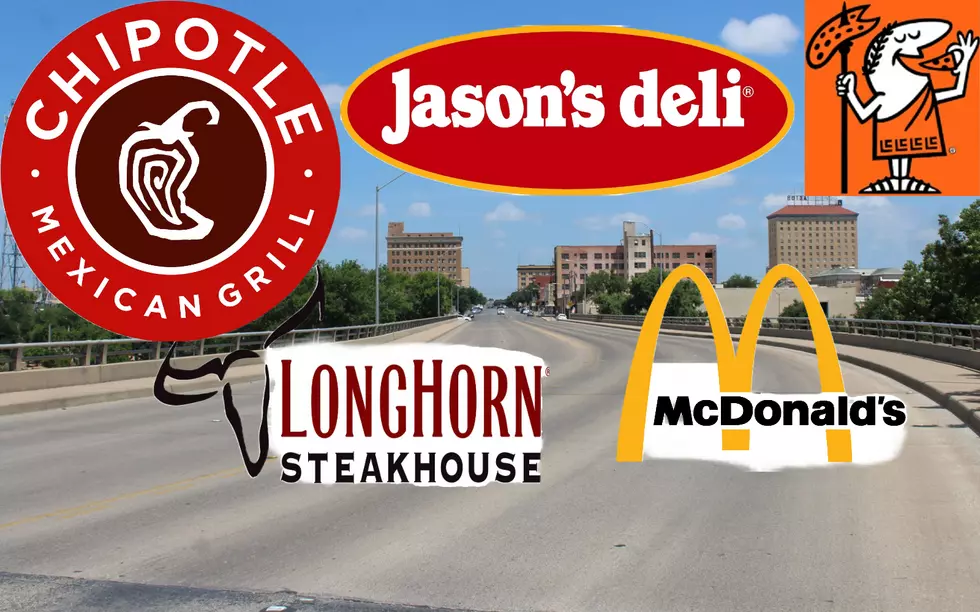 Take That Abilene. San Angelo Getting a Second Chipotle
Photo: Chipotle, Jason's Deli,McDonalds,Longhorn Steakhouse
San Angelo is on fire economically, if you look at the current new restaurant tally. The first new Chipotle hasn't even opened yet and now there are plans for a second one.
The first Chipotle is nearing it's opening in the 3500 block of South Jackson Street.  Now, they're planning on building a second location at 5590 Sherwood Way. There are some pretty strong rumors that an Abuelo's Mexican Restaurant will also locate there. That is the same complex where the new Kohl's will be.
Even Abilene, with 20% more population only has one Chipotle. Take that, Abilene. Although, Abilene is still ahead of San Angelo in McDonald's locations with four.  Even with a planned third location at Avenue N and S. Bryant, San Angelo we're still behind.
Maybe, Chipotle just knows something about San Angelo. Perhaps, that we should be eating healthier. Maybe, they think there's already a market for  eating healthy. In any event, that's not the only restaurant news.
Jason's Deli has set their grand opening date for August 4th.  You will find it at 1819 Knickerbocker Road. Smoothie King will be there also in the same complex,  and a new coffee shop. There is already a lot of social media buzz about Jason's all over San Angelo.
Then, there's the Longhorn Steakhouse.  This 2-milliion dollar building project is going in at the 3900 block of West block of Loop 306 near Sunset Mall. Earlier in the year, Little Caesars Pizza opened a third location at 1500 South Bell Street and Paint Rock Road.
In larger cities, new restaurants open every day and hardly anyone notices.  Here in San Angelo, when a new restaurant chain comes to town or new location of one already here, people take notice.  All this new restaurant activity means a healthy economy. I'm excited about what might be coming next.
."}" data-sheets-userformat="{"2":33554688,"11":4,"28":1}">
LOOK: 15 Discontinued McDonald's Menu Items